Our friends and members

Accomodation
Scotland
Pierre-Marie and Christiane Lebrun : Shenval Bed & Breakfast
Glenurquhart, by Loch Ness
Inverness-shire IV63 6TW ECOSSE
Tel : +44 (0)1456 476 363
Email : info@shenval-welcome.co.uk
http://www.shenval-welcome.co.uk/fr/
Brittany
Patrice Caouissin and Maryline Dronval : Cottage at Commana
4 rue du Paradis, Commana (29450)
Tel : 06 82 17 42 88
Email : marylinedronval@aol.com
http://natureetpoesie.wix.com/gite-commana
Per Le Moine : House at Glomel
£350 per month, or £3990 year-round
Informations : klesseven@hotmail.com

Restaurant
Scotland
La P'tite Folie, French restaurant
9 Randolph Place
EDINBURGH, EH3 7TE
Tel : +44 (0)131 225 8678
Email : info@laptitefolie.co.uk
http://www.laptitefolie.co.uk

Music
Brittany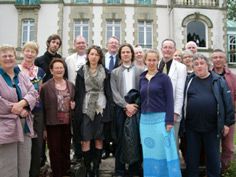 Publications
Thanks to members to inform us of their publications (books and articles) in order to update this section.
BALTI Béatrice :
J.M. Barrie, Celui qui préférait les fées aux femmes, Editions Complicités, 2018.
Histoire de l'Ecosse, Yoran Embanner Ed., 2017.
R. L. Stevenson, voyage au bout de l'étrange, Yoran Embanner Ed., 2012.
William Wallace, le cri de la liberté, Yoran Embanner Ed., 2009.
BONNET, Philippe :
Histoire de la bière en Bretagne, Éditions Sokrys, 2015.
DELIGNIERE Pierre :
"Le sage" in Yann Brekilien, Association des Ecrivains Bretons Ed., 2013.
"Le "développement" du littoral breton est-il durable?" in Patrimoine et vie collective, Bruxelles, Service de l'Education Permanente, Ministère de la Communauté Française, 2005.
Romance gaëlique, Auto-édition en collaboration avec Pierre Kerebel, Quimper, 1997.
"Que devient la loi Littoral?" in Alors? n°3, Paris, mars 1995.
"Agriculture: le retour de la solidarité paysanne." in Alors? n°3, Paris, mars 1995.
"Si le temps du démantèlement de la centrale nucléaire de Brennilis m'était compté ..." in Alors? n°3, Paris, mars 1995.
"Le vertige de la force." in Oxygène Bretagne n°60-61, Concarneau, juin 1984.
"L'âge du plomb." in Oxygène Bretagne n°63-64, Concarneau, mars 1984.
"Les utopistes; pouvoir d'achat ou pouvoir de vivre? Va-t-on enfin sortir des sentiers battus?" in Oxygène Bretagne n°54-55, Concarneau, septembre 1983.
DE LUCA Christine :
"Breton Circle Dance" in L'Archipel des Lettres, n°2, Ouessant, 2008.
Mondes parallèles, Edition bilingue français-shetlandic, Fédérop, 2007.
GIBSON Rob :
The Highland Clearances Trail Luath Press Ltd, 2006.
Plaids and Bandanas: From Scottish Drover to Wild West Cowboy, Luath Press Ltd, 2003.
MANFREDI Camille :
Alasdair Gray, le faiseur d'Ecosse, Presse Universitaires de Rennes, 2012.
"Les mondes parallèles de Christine De Luca." in L'Archipel des Lettres, n°1, Ouessant, 2007.
MOOR Patrick :
(ys.publication@orange.fr -
www.patrickmoor.fr
)
Balades à Douarnenez (balades imagées de Douarnenez, entre ombres, lumières et vents de ses quais, ses rivages et de sa baie), Le Magicien, 2008
Eclypse.
Les reflets du miroir.
NIELSEN John-Erich :
(
http://www.hoh-editions.com/
)
Mystère Edimbourg et Docteur Stevenson, Tome A et B
Orcades en eaux troubles
Mortelles Hébrides, 2015
Un poison irlandais, 2014
Crime à l'heure du Tay, 2012
SELLIN Bernard :
Voices from Modern Scotland, Janice Galloway, Alaisdair Gray, Nantes, 2007.
The Life & Works of David Lindsay, Cambridge, Cambridge University Press, 1981, réédité 2007.
"Au bout de son île, il vivait heureux. George Mackay Brown, poète des Orcades." in L'Archipel des Lettres, n°1, Ouessant, 2007.
Traduction d'une nouvelle de John Buchan, Les îles lointaines et introduction de l'ouvrage de John Buchan, No Man's Land, Paris, Michel Juchard éditeur, 2005.
Publications direction :
Ecosse des Highlands, mythes et réalités, Brest, 2003.
Modernité de l'Ecosse, Brest, 1995.
Responsable de la revue Triade (Pays de Galles, Ecosse, Irlande) de 1995 à 2003.
"Pays de Galles, Ecosse, Irlande", Cahiers de Bretagne occidentale, n°7, Brest, Centre de Recherche bretonne et celtique, 1987.
L'Ecosse, Rennes, Institut Culturel de Bretagne, 1986.
Coordination et direction de la publication des actes du congrès de la SAES, Brest, 1986, ateliers Irlande, Ecosse, Pays de Galles.

Entertainment and shows