Economy
Since 2000, Brittany Ferries offers discounts on ferry boat fares for the members.
In 2000, we participated to the 5th International Art and Craft Fair in Plonéour-Lanvern (Finistère) and presented Scottish products.
We took an inventory of the Breton companies trading with Scotland and we carried out market research on the Breton companies wanting to develop relations with Scotland.
Following the research, a Breton products sale was organized in Wigtown (Dumfries and Galloway).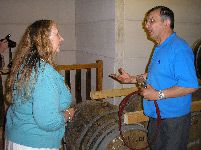 The market research was realized by students during their work placements and 12 Breton companies presented their products during the Book Festival in Wigtown in 2008 with the opening of a Breton Boutique. A report was published in 2009.